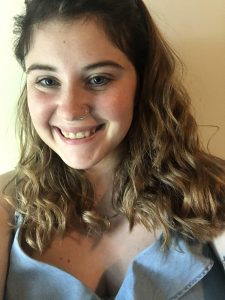 Danie Watson-Goetz is a freelance writer and social media manager living in Raleigh, North Carolina. Originally from Erie, PA, Watson-Goetz works with clients to brand and establish their social media presence. Watson-Goetz is currently serving as the Social Media Editor for River and South Review. She also works closely with the Maslow Family Graduate Program in Creative Writing at Wilkes University, serving as their social media manager. Watson-Goetz also serves as the Marketing Director at Kaylie Jones Books.
Previously, Watson-Goetz worked as an adjunct professor teaching Communications, English and Sociology at Lackawanna College in Scranton, PA. Watson-Goetz also worked as the Employment Instructor at Volunteers of America where she assisted women looking for employment as part of the Volunteers of America Job Readiness Program. 
Watson-Goetz graduated with her B.A. in English Writing from Edinboro University in 2015. At Edinboro, Watson-Goetz was a staff editor of The Spectator, a weekly newspaper published by the university. During her time on The Spectator staff, Watson-Goetz served as the Lifestyles editor and the Community News and Arts & Entertainment editors concurrently. She also served as Assistant to the Director at the Edinboro University Writing Center and was a proud member of the Robert C. Webber Honors Program.
Watson-Goetz then graduated from Wilkes University with both her M.A. in Fiction and her M.F.A. in Creative Writing (Education track). While at Wilkes, she served as a graduate assistant, working closely with the program director on website development, social media management, recruitment, conference organization and editing. Watson-Goetz also served as the editor of Revise This! and The Write Life for much of her time at Wilkes. She also worked closely with Etruscan Press as an editorial assistant.
Her book review, "Unmasking the Hermit," was featured in the Fall 2017 edition of Tailor Made Magazine. Watson-Goetz's other publications can be found on her readings and publications page.
Find her on Twitter @DWatsonWriter.